As President of Triangle IT Group, I understand that you have a number of IT support companies to choose from. But how many of them can you trust to keep their promises and actually deliver on what they said they would? Probably not many. We do things a little differently!
Here are 10 things we do better than other IT companies:
Lightning Fast Response Time - We start by answering our phones directly... no prompts or voicemail.  We will assess what kind of problem you have and our expert technicians will address your support issues lightning fast, typically within 60 seconds or less!
Ultra Speedy Repairs - Your computer network and your time are too important to wait around for computer repair. That's where our IT support services come in. We will access your computer or network remotely to resolve your problem fast. If we cannot access or fix it remotely, a technician will be dispatched to your office.
We Speak Your Language - If you have any problems or computer support questions, you can ask and we will answer in PLAIN ENGLISH. You won't be made to feel stupid by any technical talk from our IT support specialists.
We're Great Listeners - We actually listen to your concerns and goals for your company! We work with you as a trusted partner to develop tailored IT solutions to solve your specific business needs. Having experience in various industries give us a greater knowledge base to draw from to make sure you get the best solutions to help your company succeed.
Absolute 100% Satisfaction Guaranteed  - You will receive the total satisfaction you expect with our IT services and consulting. We'll go out of our way to make sure you are a satisfied customer. Triangle IT Group proves our worth every day to ensure our client's operations are up and running at peak efficiency.
We Won't Surprise You  - We all like surprises sometimes, but not when it comes to your IT maintenance or critical business data.  You will be informed of any potential risks we uncover during our routing preventative maintenance services. All potential risks will be described in detail and your authorization will be obtained before work begins. Your network or data will not be damaged, that's a promise.
Projects Will Be On Time and On Budget - As your trusted partner, we won't surprise you with unexpected charges when it comes to completing your IT projects. We make no excuses. We guarantee the completion of your IT project will be ON BUDGET and ON TIME.
We Take Ownership Of Your IT Problems - Dealing with IT problems can be frustrating. Sometimes it requires talking to third-party vendors and Internet providers to provide a fix. This can often result in "finger pointing" as to what vendor is at fault in troubleshooting hardware and software issues. At Triangle IT Group, we take ownership of our client's IT problems as their advocate and work diligently with third party vendors to ensure downtime and drama are kept to a minimum and get your systems up and running quickly.
Calls Are Answered Live and Not With Voicemail - We mentioned this in item #1 above but it deserves its own special mention.  Everyone dislikes having to press multiple buttons or going straight to voicemail.  This is why we answer calls live, to give you the best service possible.
We Are Your Strategic Technology Partner - You can hire any computer tech or 'IT company' to fix things when they break.  Wouldn't you rather have a strategic partner that can help you plan growth or improve the effectiveness of your current technology investments?
Download Our Free Report . . .
"21 Revealing Questions You Should Be Asking"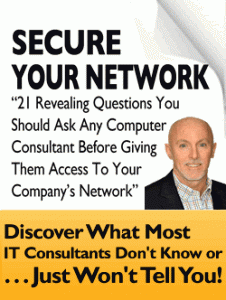 ---
Read this report and you'll discover:
The "dirty little secret" to the computer repair industry that most people don't know.
21 revealing questions that will help you instantly spot an unethical or grossly incompetent computer repair/support technician.
3 costly misconceptions business owners have about computer maintenance and repair.
Viruses, worms, spyware, and hackers: what you need to know to protect yourself.
5 mistakes to avoid when choosing a computer consultant.
Why you need to avoid "cheap" or "bargain" computer repair shops.
The one surefire sign that you should run – not walk – from a computer consultant.
Enter your information in the form below, and click download now!
. . . Even if it's 1 oclock in the morning!